Open Morning 2023
Open Mornings for Earley St Peter's CE Primary School
Looking for a Reception place for September 2024? Earley St Peter's is a vibrant, welcoming school where pupils outperform national averages in all areas and embody our values of Respect, Forgiveness, Service, Honesty and Kindness. 
We firmly believe that the best way to understand why Earley St Peter's is the right school for your child is to see the school in action. As you can see from our dates below, our Open Mornings all take place within the school day allowing prospective parents to see the calm learning environment, purposeful, engaged classrooms and to meet our experienced, welcoming staff. 
Why not book a place at one of our Open Mornings for prospective parents by contacting admin@earley-st-peters.wokingham.sch.uk
Tuesday, 26th September 9.15am – 10.30am                              
Tuesday, 17th October 9.15am – 10.30am                                  
Thursday, 9th November 9.15am – 10.30am                               
Friday, 24th November 9.15am - 10.30am
Tuesday, 5th December 9.15am - 10.30am
Tuesday, 9th January, 2023 9.15am – 10.30am
Pupil Outcomes 2022-23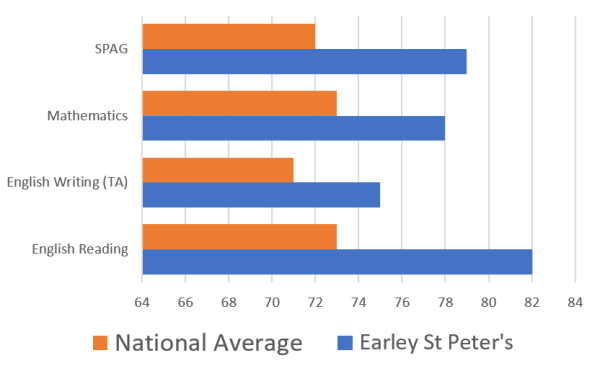 Please click here to see our latest OFSTED Report
EYFS Twitter Page
Follow the link below to our EYFS Twitter page for an insight into life in our Reception classes. 
https://twitter.com/StPetersEYFS